It has been roughly 20 days since the day of a year launch of this blog site. I have been paying attention on the Alexa rank for my site and it has been improved a lot since. The day of a year launch of this blog site which is roughly 20 days ago, the site was rank at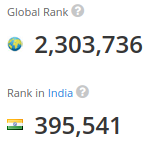 And now at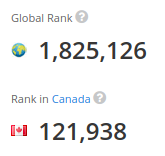 In addition, my blog site now has information on top keywords from search engines (which search keywords send traffic to my site) in Alexa site,

It seems like people who are interested in using hls.js to play video or to enable access control with Apache cors comes to my site a LOT.
Which correspond to these two blog,
Hope you found these statistics to be interesting and PLEASE leave any comment if you have any questions.
Enjoy the rest of your day!
Cheers,
Baron